This piece draws from many sources, but mainly three books; The Evil Dead Companion by Bill Warren, If Chins Could Kill by Bruce Campbell, and The Unseen Force The Films Of Sam Raimi by John Kenneth Muir. All these books are a must for any Evil Dead fan, and I would highly recommend buying all three of them.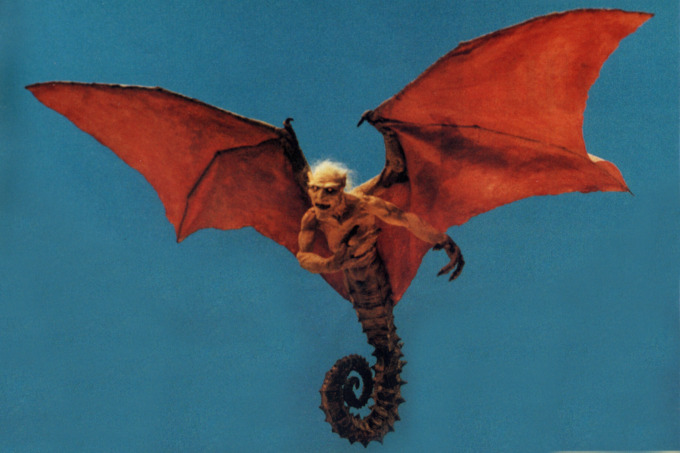 With the finance in place for Evil Dead II, Sam offered Tom Sullivan a four month contract to supervise all the special effects work, which included the make-up effects and stop-motion animation. Tom felt this huge task was beyond his abilities, so opted to take a reduced role producing a portion of the stop-motion animation, and a some of the props.

Because of the scale of the make-up, props & physical effects involved in Evil Dead II, the tasks were separated out and each allocated to specific departments. There was Tom Sullivan with a portion of the the stop motion & some props. Mark Shostrom was the supervisor of the make-up effects team which included make-up artists Robert Kurtzman and Howard Berger, sculptors Mike Trcic, Shannon Shea, Aaron Sims & Tim Turner, and assistants Greg Nicotero & Bryant Tausek. Tony Gardner was in charge of the foam latex, and Dave Kindlon managed the mechanical effects specifically used inside the make-up. Vern Hyde & his crew were charge of general physical & mechanical effects. Doug Beswick of of 'Doug Beswick Productions Inc.' supervised his crew of sculptors & animators including Jim Belohobek, Yancy Calzada, Steve Wang, Phil Notaro, Teresa Burkett & Mark Wilson. Most of the mattes & miniature models were made and filmed by Gary Jones of 'Acme Effects' and Tom Hitchcock & Bob Dyke of 'Illumination Effects', with Bob Kayganich. A host of other people were involved in the production along the way such as special props Tony Elwood, animator Rick Catizone, sculptor Michael Burnett, foam fabricator Mark Bryan Wilson, and a list of technicians & assistants; Dale Johnson, Margaret Prentice, Dave Thiry, Tom Barkstedt, Douglas Evan Hersh, David Moenkhaus, Daniel Noga, Brian Joseph Ochab, Larry Odien, Mike Tristano & Brian Rae. Its worth noting that a number of people involved, including some listed above, were not listed in the end credits.


| | | |
| --- | --- | --- |
| | | Tom's responsibility included all the sculpting & animation for the introduction sequence, along with other select sections including the medieval winged deadite, although this was all done during post-production. Tom travelled down to North Carolina, but had to return to Detroit after two weeks due to family problems, although he continued to work on the picture. His initial task was to make a new Book Of The Dead, as Sam wanted it to be bigger than the book made for the first film. Tom created four new books; one hero copy with all the pages hand painted with watercolours, and three stunt versions. He also made five sets of identical lost pages. For one of these lost pages, Tom asked for a photo of Bruce posed in costume on the set to work from. Bruce turned up on the day just in rehearsal clothes; a blue shirt & white pants, and no one mentioned this to Tom, so the hero who falls from the sky was drawn wearing white pants. Sam had taken possession of the original Kandarian dagger, along with the book, after production finished on The Evil Dead, and brought it with him to Wadesboro. Tom redesigned the blade from a simple pointed piece of metal to a tail-like tapered set of bones, which was sculpted by Mike Trcic & Brian Rae, Tony Ellwood made a mould and cast copies of the original hilt, and then both hero & stunt copies of the knife were produced. |

Because the partners were contractually obliged to deliver an 'R' rated picture, Everyone thought it important to emphasize bodily fluids in green, black, yellow, or any other colour except red. Unlike its predecessor, the gore was toned down, using quick cuts and character reaction shots for horrific effect, rather than showing the violence for complete gross-out. The gamut of make-up effects ranged from straight greasepaint make-up & simple appliance make-up, up to full body suits & articulated dummies. Prep for Mark Shostrom's make-up effects team began in Pasadena, North California at the start of March 1986, ten weeks before the start of shooting. This extended period allowed them to complete just about everything that was initially required.


Sam & Mark had a meeting and discussed each character in detail. Sam was happy for them to take some artistic liberty in designing a different concept for each possession, designs which could also change through the course of the movie. Sam's idea behind the evil force is that it could do anything it wanted to. Greg coordinated the group, with Mike Trcic, Shannon Shea, Howard Berger and Mark each having complete charge of a character, so that the look would remain constant throughout the film. They went through a design & prototype stage for each make-up. Ash's prototype appliances included large nose & chin extensions with thick eyebrows, which was named the 'Sid Caesar' make-up. Evil Ed was managed by Shannon, with several rows of teeth, a distorted face and long fingers, whereas possessed Linda was given a perfect doll-like face designed by Robert. A Scotty dummy was also prepared for the film's introduction & recap scenes, before this idea was dropped from the script.

The first day of production got under way on the May 10 1986, with the omitted scene of possessed Henrietta rocking in her chair from the darkness in to the light and opening her white eyes. As shooting continued, Sam regularly came up with new ideas to keep the various effects teams busy, but they always managed to fill his requests no matter how bizarre. Greg used a video camera to document every stage of his involvement with the production, and accumulated around six hours of raw footage by the end. Whenever Greg had pointed his camera at Bruce or Sam they would immediately break into gags and Three Stooges shticks. Sam took great pleasure in explaining how the miracle of special effects was about to bring a particular terrifying scene to life, although he usually lied. Among many other things, Greg filmed a spoof of the necklace giving scene from The Evil Dead acted out by Bruce and Howard Berger, and a strange short film called Evil Dead Baby, involving a toy baby doll coming to life and killing members of the make-up team. At some point more recently, Greg apparently stated that he's since lost his tapes, although this is unclear as though some of the footage has turned up in various Laserdisc & DVD documentaries released over the years.

Many of the effects that didn't make it into the final film, can be seen in Greg's footage, such as the Chop-top sequence which was meant to take place after Ash had partially decapitated Evil Ed with the axe. The top of Ed's scalp crawls around the floor and Ash fights with his re-animated torso a little longer. Shannon Shea sculpted & moulded an Evil Ed half-head & shoulders hand puppet which Robert puppeteered. Once on the floor, Ed's body convulses while Ash dismembers him, which used a fibreglass jointed dummy operated by crew under the floor, augmented alongside by a real hand through a hole in the floor with a severed stump appliance. Also seen is possessed Ash's face reverting back to normal, via air bladders under his facial appliances allowing his open wounds & deformed protrusions to 'deflate' back down to normal. A hollow inflatable rubber hand was also made for the same shot which could be inflated & deflated on cue, and have fingernails grow out. A gelatin version of the possessed hand was made for Bruce to stab though with a knife, before cutting it off with the chainsaw. Gelatin was chosen as its movements tended to be more lifelike as opposed to foam rubber, although this meant the hand had to be refrigerated to prevent it from melting while on the hot set

Ash's possessed & dismembered hand, mixed & matched various mechanical and make-up effects with stop-motion animation. Some used an entirely fake hand with a radio controlled articulated armature inside, others used either Greg's or John Walter's real hand with a severed stump appliance, and Rick Catizone's animated a stop-motion version was used for the remaining shots.


In order to have a real hand moving across the floor, a narrow trench was made between the cabin's floorboards with one side two inches higher than the other, so when filmed across at a certain angle it would look like once continuous piece of flooring. Underneath Greg or John would scuttle their hand from one end of the trench, to the other.

Bruce flung himself into the role, insisting on using the same fake blood recipe as was used in the first film, which unfortunately meant sleeping with a fly swatter within easy reach. Bruce's appliance make-up was managed by Howard Berger, with two distinctly different make-up designs over the course of the film shoot, applied a total of around twenty times all together, with Bruce maintaining his own scar make-up using a gel-like blood. Bruce wore scleral contact lenses during his possession scenes, which left him completely blind. Fortunately, contact lens technology had improved since 1979, but the process of insertion & removal was still painful, so Bruce often just left them in between takes, although they could not be left in indefinitely. Ash's 'hand-chainsaw' was constructed by Vern Hyde's crew from a real Homelite XL chainsaw, which had its engine replaced with a smaller 12 volt electric motor, so Bruce could fit his hand inside and it would be silent for filming when the chain was still. Fake exhaust smoke was fed into the saw via a tube that ran down Bruce's pants leg and out twenty or so feet to a tobacco smoker, and the chain's teeth were filed down for safety. There was also an unaltered fully working real saw, and foam rubber & lightweight stunt reproductions, each to serve for different purposes, although the continuity between them doesn't quite follow, as they all have varying body styles and guide bar lengths.

The most complicated & elaborate make-up in the film was for Possessed Henrietta, played by Ted Raimi. A complete body cast of Ted was taken, on which the main portion of Henrietta's rotting body could be sculpted, as well as separate head, arm & leg moulds to sculpt each part respectively. A suit with pouches full of lentils were added underneath to give the outer skin weight and movement, although this did make the make-up much heavier.


The head prosthetics were applied in fourteen sections, and the polyurethane foam body suit was another thirty. Complete fitting & dressing took around five hours, and the make-up included dentures and contact lenses, with virtually ever single piece of Ted's skin covered except his fingertips. He was put in the make-up a total of eleven times, although is only actually seen on screen for a few minutes.

The temperature on set proved a big challenge for Ted. Outside it was over 100 degrees, which meant inside the gym with poor ventilation and Tungsten lights the temperature hovered around 110 degrees. In order to stop him overheating, Ted's scenes were shot at night where possible, and in between takes he sat down on an apple crate wearing an oxygen mask, while drinking large amounts of Gatorade to keep his energy up. Each evening when the suit was removed, the make-up crew poured out the sweat which had accumulated through the day in Ted's rubber 'boots', with one such moment captured on Greg's video camera. Because Ted had been dusted with talcum power during make-up to make the suit easier to slip on, the resultant sweat mix resembled spoilt cheese. There is a shot in the finished film where Ted turns to camera and a stream of sweat pours out of a slit in the appliance over his ear.

Ted's most difficult period during the shoot was being put in to a harness so he could be hoisted up on wires to fly around and spin in the air. Such harnesses usually either dig into the wearer's groin, pinch their hips, or restrict their breathing, Tedís harness probably did all three. In the movie while Ted is spinning round in the harness grabbing Annie's hair, a large tear in crotch of the suit is clearly visible.

Vern Hyde & his crew were charge of physical & mechanical effects. The weird & wonderful camera rigs alone kept them busy, such as the 'Sam-o-Cam', 'Splash-o-Cam', 'Camel-head/Samel-head', 'Ram-o-Cam' and the 'Torso-Cam'. One of the most famous shots of the film was designed by Peter Deming, the so called 'Eyeball-Flyball'. Vern constructed a rig which could be fixed to the camera, with a sideways 'U' shaped black metal rod attached to the camera at one end and a disembodied eyeball made from a ping-pong ball on the other, with the middle of the wire stretching away from the camera. With wire removal or digital manipulation out of the question, Peter used camera's depth-of-field to hide the wire in the blur of the passing background. He shot it with an 85mm or 100mm wide open lens, keeping tight focus on the eyeball, although the wire can still just be seen in the finished film.

The 'the demon head made flesh' climax in the cabin utilized the skills of virtually all the effects crews in some capacity. The huge face tree that appears at the cabin window was named the 'Baaaah Tree'. At thirteen feet long, it took three people inside the trunk to operate it. Tony Gardener supervised the 'Rotten-Applehead' team, which was constructed as a full size mechanical effect with gelatin eyes, using foam rubber heads taken from existing casts of the actors to dress in as the 'souls' it had collected through the movie. The head never seemed to work properly, so Sam used an anamorphic lens to distort the image, and cut around it where possible. Doug's crew; Phil Notaro, Teresa Burkett & Mark Wilson, constructed a full size sixteen foot tree hand that comes through the cabin window grabbing Ash. They went out for a day taking a number of reference photos of various types of tree, then constructed the arm with an aluminium frame which was articulated and attached to cables for movement. The frame was then covered in fake bark made of mattress foam, which was shaped & glued in place. Once everything was complete, it was all packed in a hire-truck and driven down to North Carolina. Rather than pay to have it all brought back to Detroit once shooting wrapped, most of it was just left in Wadesboro, and 'Rotten-Applehead' turned up at the end of a hallway in a local haunted house attraction that autumn.



The 'Blood-Flood' set-up involved eight fifty-five gallon oil drums stacked on top of each other in pairs. Each was filled with different coloured water mixed with wallpaper paste so it would stick to Bruce. This liquid was pumped using two huge gasoline powered pumps through one-and-a-half inch tubing connected to holes in the set, allowing the walls to 'bleed'. The blood drained down a sandbag trench off outside, but because of the sheer volume, shooting had to stop for the rest of the day to allow the set to drain & dry out.

For one specific shot in the scene Sam wanted to have large volume of blood travelling at high speed horizontally towards Bruce. They tried twice in North Carolina, then once again during the re-shoots in Detroit, but Sam was unhappy with the effect. In the end a portion of the set was constructed sideways, with the camera was tilted likewise, so on screen it appears to be orientated normally. Bruce lay horizontally flat on a diving board type rig a few feet off the floor, and above him was a fifty-five gallon drum of fake blood with a bathtub sized plug in the bottom. The plug was pulled out and he was hit with the full force of the liquid, which left him blowing red and black snot for the next two weeks, but Sam got the effect he wanted.


Once principal photography was completed in September 1986, many of the make-up effects crew including Howard Berger & Greg Nicotero left the production to work on Creepshow 2, but came back in December 1986 to work on some re-shoots in a warehouse studio in Dearborn, Michigan just outside of Detroit.

Most of the film's animation was filmed during the three and a half months of post production, and was split up between various people. Tom Sullivan worked with Larry Larson & Brian Rae on their animation in the re-shoot warehouse. There, they had a space to work, and a specific filming area set up with a bluescreen to allow for compositing. The majority of the opening exposition sequence was produced by Tom & his crew. The first Book Of The Dead shown on screen was hollow with a wooden frame. Inside it had articulated ball & socket joints which supported sections of the outer 'face', allowing the brow and Jaw to be animated separately. The front was covered over with the book's 'face' cover made in a highly flexible Smooth-On skin, which had a grid of aluminium wire attached to the back to facilitate in its warping & manipulation. The camera moves through the book's mouth in to the vortex. This was 4 foot diameter spinning painting, although originally Tom had planned to shoot two separate paintings and superimpose them, but this never happened.

The demons flying past were made in Super Sculpey over an aluminium armature, which was then painted with acrylic paints. Their movements were animated in a static position in space, and Larry moved the camera past them in to a black background frame by frame to create their movement. The demons and the vortex were composited later to give the complete shot. The next shot in the sequence depicting the spontaneous creation of the book's pages took around four hours to animate. A blank paged book was fixed in front of the blue screen, and Tom hand drew in each page flipping the pages faster with each frame taken.


| | | |
| --- | --- | --- |
| | | |

Tom also designed & animated Henrietta's worm infested head popping out of the cellar floor, and Ash's white hair streak with the wilting flower. For the final medieval scene, Tom designed & constructed the winged deadite, which was lit and filmed against the bluescreen. It was originally intended that the deadite should fight with one of the knights on horseback, but the background plates shot for Tom on location proved to be unusable because of the amount of dust thrown up by the horses, so this scene was cut back. Because of it's reduced screen time, the full capabilities of the intricately articulated model are never shown, But Tom did manage to include a quick smile before it's head exploded.


Doug Beswick of 'Doug Beswick Productions Inc.' was responsible for animating Linda's dancing corpse, although the design meetings were held by phone, only seeing the partners in person once the film had been completed. After Sam & Rob talked him through their ideas, with a rough outline of the scene, and some rough stick figure storyboards, Doug worked with a choreographer called Tam G. Warner, and dancer Snowy Winters to put the dance moves together. Jim Aupperle was then brought in as director of photography, and the final dance was filmed in 35mm film with a master, a medium, close-up, and extreme close-up shots, against a grid patterned backdrop. Doug only had one camera to work with, so the dance had to be filmed repeatedly to get all the angles needed. The raw footage was then sent to Detroit where Sam & Rob worked with editor Kaye Davis to edit it together with footage of Bruce already shot back in North Carolina to give the final sequence as they wanted it shown on screen, leaving Doug an exact template from which to work.

Using Mark Shostrom's full size Linda torso as a guide, Doug and his crew; Yancy Calzada & Steve Wang, sculpted & cast a 12" scale figurine with an armature inside to allow for animation, and a detachable head. The disparity in decomposition between the head & body was deliberate, as it was reasoned that the head would have just lain on the ground where it fell, but the body had been buried in the coal causing it to decompose. Jim Belohobek built a scale miniature set to match the exterior location on an eight foot square tabletop, with trees and a smaller forced perspective cabin in the background. This same scale set was also used for the initial shot where Linda's hand pops out of the ground, although the hand used was actually life-size, with the forced perspective background and some bigger lumps of coal added to the foreground to keep the scale.

The animation process took Doug over a month to complete. Working from the reference footage, he aimed more at hitting the key poses rather than a frame for frame match. He used a moviola to view his raw footage & keep the dance in time, and surface gauges to measure & accurately keep track the model's movement in space. This system usually allowed him to reverse engineer any movements if he discovered a mistake. Doug's greatest challenge involved the atmospheric mist required in the sequence, as physical mist on the set could not be animated one frame at a time. To overcome this, Doug brought in 'David Stipes Productions' with their motion-control camera system, which could be programmed to match it's live action camera moves, with Doug's previous stop-motion camera moves. The mist was filmed live moving at normal speed, and then composited with the stop-motion animation. Once the sequence was completed, Doug produced a 'click track' to give the composer a tempo with which compose the music.


Once the sequence was completed, Doug produced a 'click track' to give the composer a tempo with which compose the music.

Henrietta's transformation in to Pee-wee Head, named after 'Large Marge's' transformation in Pee-wee's Big Adventure, was part live-action and part stop-motion. Fixed key points of the transformation were sculpted, cast & applied with the rest of Ted's make-up on set, and Mike Trcic filled in the actual transformation between the live-action shots. The Henrietta suit was rigged with a long neck and a cable controlled head, which allowed facial movement, and a 'glove puppet' head & neck was also produced for specific close-ups. Mike Trcic sculpted a full size head & shoulder bust, along with two interchangeable heads in different stages of transformation, but had to leave the production early to start work on Creepshow 2 so Rick Catizone took over and animated the sequence.

Three gelatin replicas of Henrietta's decapitated head were produced to be filmed at 500 frames per second and blown up. The heads were filled with a mixture of bananas, stewed tomatoes, rotten peaches, black methacyl, and bright green Ultraslime. As the effect was quite dangerous, a fake Ash boot was fixed on top of it to match continuity and everyone had to clear out of the set for the detonation.



The miniature cabin and surrounding forest were constructed by Gary Jones of 'Acme Effects', then passed on to Tom Hitchcock & Bob Dyke of 'Illumination Effects', who added the attacking trees and filmed the scene. The trees were a mixture of miniature hand & rod puppets and full size rod & foam puppets. They also created the miniature destroyed bridge, along with various matte paintings for wider shots.


Mark Shostrom had just come off make-up effects work on A Nightmare on Elm Street Part 2: Freddy's Revenge prior to starting Evil Dead II, and along with Sam took the opportunity to hang a Freddy glove he owned in two of the sets through the course of the movie; In the workshed above the door, as Linda's headless corpse bursts in with the chainsaw, and later in the film to the left of the cellar partition door when Ash is searching for the book pages. Robert Kurtzman, Greg Nicotero and Howard Berger bonded together so well during production, that they formed their own special effects company; the 'KNB EFX Group', based in California. Their company would go to service many bigger budget features, including Army Of Darkness just a few years later.