A Farewell to Arms Book
[Main Title] A Farewell to Arms
[Edition] 1949 Edition.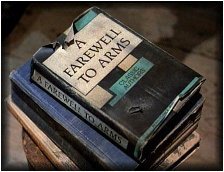 [Collection] Modern Standard Authors
[Type] Book.
[Authors] Hemingway, Ernest.
[Published] New York : Charles Scribner's Sons, 1949.
[Description] xxxvii, 342, [1] p. ; 22 cm.
[Subjects] Novel - World War 1914-1918.
[Notes] The Evil Dead II Dust Cover is simply a Fake. If you look above the dust sleeve in the movie, you can read RENAISSANCE PICTURES. You can see the real Hard Cover under the fake Dust Cover: Black with a large White-Green band. The sole Edition with a similar Hard Cover colour is the 1949 Edition. And the Real Dust Cover is very similar to the Fake Evil Dead II Cover. The "Classic Authors" Collection in Evil Dead II resembles to the real collection title "Modern Standard Authors".
[Real Book Cover]
This picture shows the real dust cover of this book. The fake dust cover in Evil Dead II replaces this one. You'll see the little "Black & Green" Hard Cover under the dust covers and, thrust me; the 1949 Edition is the sole book with this kind of Hard Cover. I searched the entire web many times, and this book is surely the book used in Evil Dead II. The producers are simply changed the dust cover for not made any publicity, I think! Also, you can notice the comparison in the Cover design...
[Fake Book Cover]
I made a replica cover for this book. It look like the same used in the movie! On the bottom green line, you can read "Renaissance Picture" !!!

Why it's in the movie?
Ash use the book for blocked the metallic container with his possessed hand. The title is an humoristic farewell to the Ash's hand.